Goat cheese Tour de France
Are you ready for an unforgettable taste experience? Then come on our journey around the map of French goat cheeses. Follow Soignon's goats to become a real expert in specialty cheeses that have a long history and tradition. From aging to aroma and flavours … you'll know everything there is to know about goat cheese!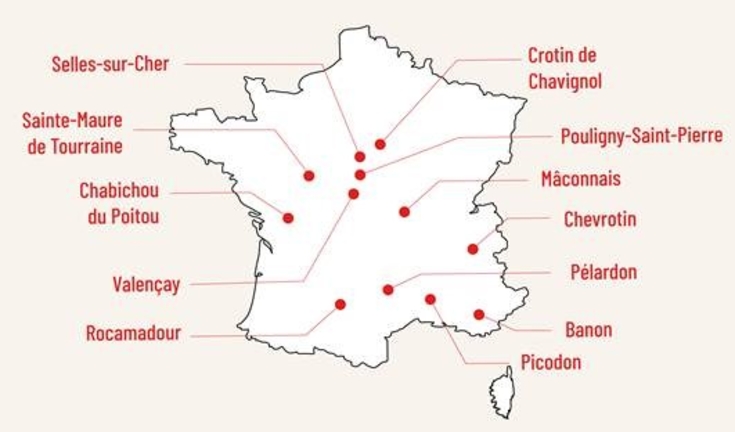 Banon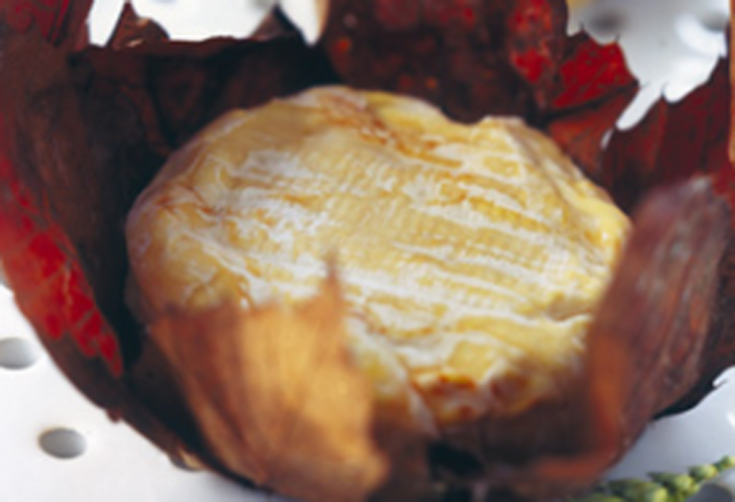 Banon cheese is made using raw and whole goat milk. Smooth with pronounced flavours, its unique taste makes this a cheese of distinction! Want to know its secret?
Cheese file
Aged for: At least 20 days
Size: small disc about 7 - 8 cm in diameter and about 3 cm thick.
Taste: quite mild and enhanced by the tannins imparted from the chestnut leaf into the cheese.
Texture: Creamy, smooth and supple paste.
Weight: 100 g approx.
PDO: 2003
History
Banon is a small mountain village in France's Alpes-de-Haute-Provence region. The eponymous cheese was the first from the Provence-Alpes-Côte d 'Azur area to receive a PDO status. Inhabitants of Banon are fiercely proud of their cheese, so much so that every year for the last twenty years, they have held a celebration in its honor.
Tasting
Fruity white wine with a strong personality, such as a Coteau du Pierrevert, is the perfect pairing for a young and unaged Banon. On the other hand, opt for a less full-bodied wine to balance a Banon with a more intense flavour.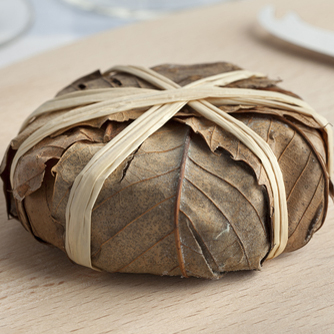 Did you know?
Wrapped in chestnut leaves and tied with raffia strands, Banon will keep throughout the winter. These leaves render some of their tannin into the cheese, giving it a longer shelf life and unique flavour. Locals have passed this tradition down through the generations.
Chabichou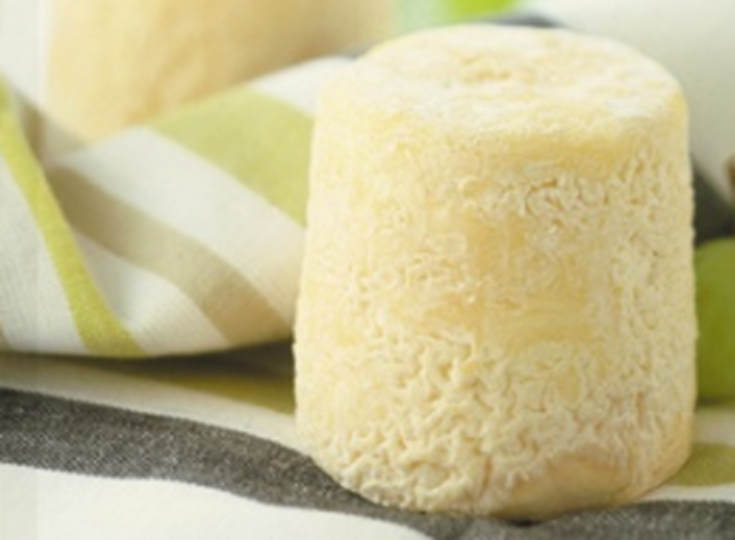 This soft and creamy little cheese is shaped like no other and also has a unique history. Discover Chabichou, a cylindrical cheese with a thin white rind!
Cheese file
Aged for: At least 10 days
Size: truncated cone shape 6 cm tall and 5 - 6 cm in diameter
Taste: mild, smooth, even creamy … its character intensifies the longer it is aged!
Texture: white, firm yet supple paste, tending to become slightly brittle when aged for longer
Weight: 150 g approx.
PDO: 1990
History
Chabichou is native to Haut Poitou, where the living is easy … Goats settled here in the 7th century AD, after Moorish invaders were repelled by Charles Martel. Despite being defeated, some of them decided to settle in the region with their herds. Their cheese was known as "cheblis" (goat in Arabic) and would evolve into the famous Chabichou!
Tasting
Whether young or aged, Chabichou is best enjoyed at the end of the meal with a glass of Pineau des Charentes, such is the tradition in this Poitou region.
Chevrotin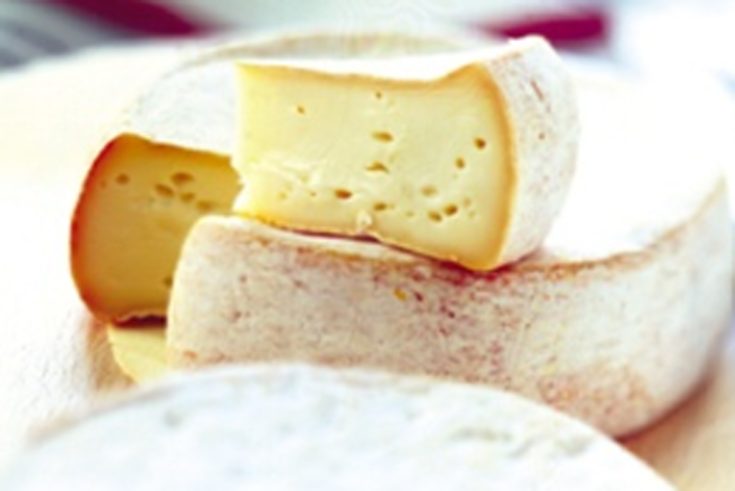 Only ever made by hand, Chevrotin is a round cheese with a smooth texture and pink rind! Its Protected Designation of Origin status is identified by means of a casein plate placed on each cheese as a guarantee of authenticity.
Cheese file:
Aged for: At least 3 weeks
Size: flat cylinder between 9 - 12 cm in diameter 3 – 4.5 cm thick
Taste: subtle flavour becoming increasingly full-flavoured as it ages!
Texture: uncooked pressed cheese, white, creamy, homogeneous, smooth and soft
Weight: 250 g to 350 g approx.
PDO: 2002
History
Home to Reblochon cheese, the French region of Savoie is also known for its goat cheese, since the Savoyard mountains are the perfect playground for the Alpine chamois goat to roam.
Chevrotin has been made for over three centuries: tradition and farmer know-how make each Chevrotin a unique cheese!
Tasting
This cheese requires careful storage in its original packaging in the refrigerator at a temperature of 8 °C.
A slice of farmhouse bread and a glass of white or red wine from Savoie are the perfect partners for this cheese.
Crottin de Chavignol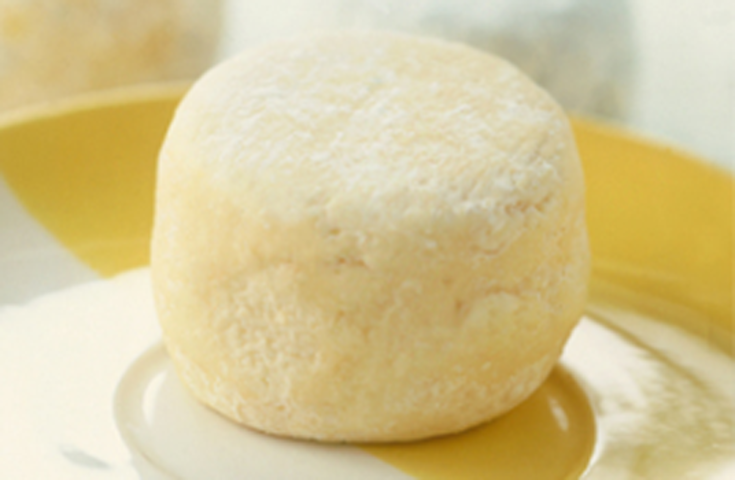 White in its youth and blue when it has aged … Crottin de Chavignol has character in spades! This small circular, rounded cheese is famous for its natural rind and delicate fresh cream aroma.
Cheese file
Aged for: At least 10 days
Size: flat, slightly domed cylinder about 6 cm in diameter, with rounded edges 3 – 5 cm tall.
Taste: An aroma that varies from fresh cream to autumnal mushrooms
Texture: white or ivory paste, fluffy, smooth and fine-textured, full-flavoured when cut, ranging from melt-in-the-mouth to dry brittle when aged for longer.
Weight: 60 g
PDO: 1976
History
Crottin de Chavignol is native to France's Cher region where many of the cheeses are made by hand. It is named after Chavignol, a small village surrounded by vineyards, and also derives its name from a "crot" which is a small terracotta oil lamp that traditionally also served as a mold.
Tating
Whether smooth and creamy or very dry, it can be enjoyed with regional wines: white or red Sancerre wines, Pouilly or Sauvignon de Saint-Bris.
Did you know?
In this locality, you can find cheeses that have been ripened for several months (and are, therefore, very pronounced in flavour). Called "crottins repassés", they are stored in stoneware pots.
Mâconnais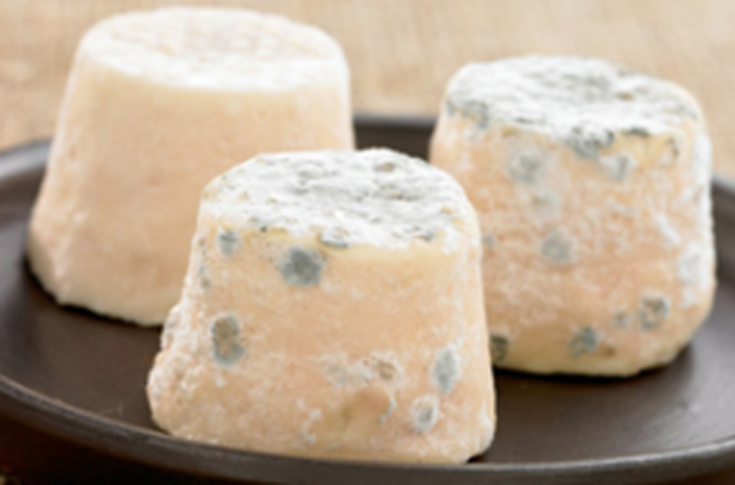 Only ever produced on a farmstead, Mâconnais or Chevreton de Mâcon, is a small goat cheese made from a combination of raw and whole milk. Fall under the spell of its cylinder shape and its cream-coloured rind!
Cheese file
Size: small, truncated cone cheese, 4 - 5 cm in diameter and 3 - 4 cm thick
Aged for: At least 10 days
Taste: slightly salty in flavour, opening up an array of different tastes as it ages
Texture: the interior is smooth and firm, with a fine texture. It becomes more supple as it is aged.
Weight: 60 g
PDO: 2005
History
Mâconnais is native to Burgundy, also famous for its vines and wine. This cheese was a nutritious snack for the vineyard workers. In this region, goat farming and cheese-making go hand in hand.
Tasting
So, naturally, we've selected local wines: Pair Bourgogne Aligoté or white Chardonnay with a semi-soft Mâconnais, whilst a red Mâcon or Beaujolais will go with an aged cheese.
Picodon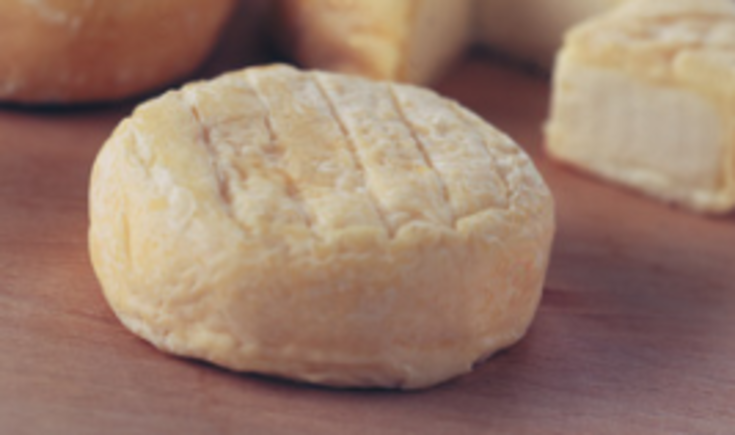 I can be enjoyed hot or cold, with bread or in a salad, you'll recognize me from my disc shape and natural bloomy rind ... I am Picodon! A specialty from France's Ardèche region, this cheese made using raw whole goat's milk has a nutty and hay flavour.
Cheese file
Aged for: At least 14 days
Size: small round disc 1.8 – 2.5 cm in diameter, 1 – 3 cm thick
Texture: firm, fine-textured and homogeneous paste, which can become brittle when aged for longer
Taste: quite mild, becoming increasingly full-flavoured as it ages
Weight: 45 g
PDO: 2000
History
For a long time, the local Ardèche area has relied exclusively on goats for their milk supply. Given their harsh winters, cheese-making was the solution to preserve their precious lactic beverage...
A word taken from the Occitan language, Picodon (or picaudou) is defined in that dictionary and translates as "little spicy cheese".
Tasting
One of its greatest assets is its versatility: hot or cold, fresh or very dry, in a salad or not, it can be enjoyed in so many ways! Côtes-du-Rhône wines are the ideal pairing.
Le Pouligny Saint-Pierre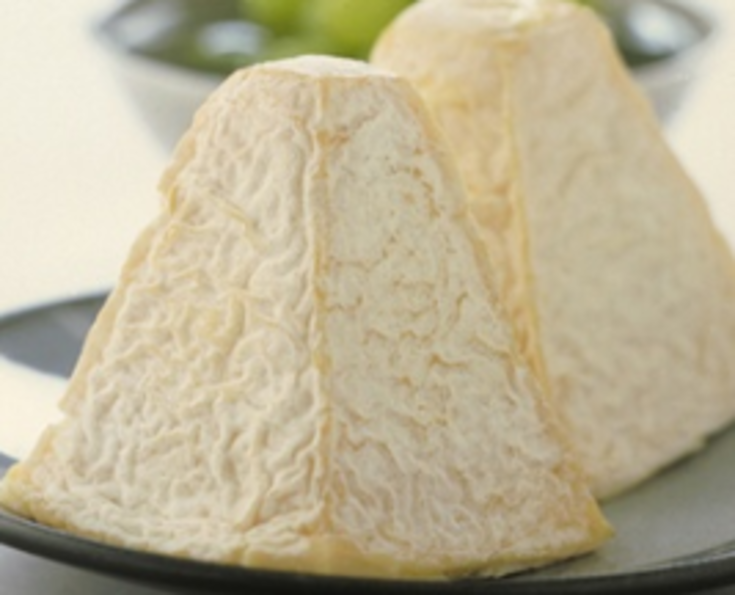 Pouligny-Saint-Pierre is produced in the smallest cheese Protected Designation Origin area, right in the heart of La Brenne Regional Nature Park. The eponymous village proudly celebrates its cheese which goes by many names: the pyramid, the Eiffel Tower... Its truncated pyramid shape is certainly inspiring and its unique flavour will delight your taste buds!
Cheese file
Taste: Very broad range of flavours, from very slight to very pronounced, with hazelnut and local terroir flavours in between.
Size: 9 cm wide at the base, 2.5 cm wide at the top and 12.5 cm tall
Texture: firm yet supple paste, ivory in colour
Aged for: At least 2 weeks
Weight: 250 g (also comes in a smaller size that weighs just 150 g)
PDO: 1972
History
Since 1990, Pouligny-Saint-Pierre has been made inside La Brenne Regional Nature Park in the heart of France's Indre region. To explain its unique shape, we must travel back to the 18th century. Inspired by their church bell tower, the villagers in Pouligny-Saint-Pierre would use pyramid-shaped strainers made of wood and rye straw to mold the famous cheese.
Tasting
Pouligny-Saint-Pierre displays a broad range of flavours which makes it approachable for many consumers.
While it is still young, its mild flavour is wonderful to cut into small cubes in a salad and drizzled with walnut oil or else thinly sliced and serve on warm toast.
When the faintest blue mold appears, it will delight the most discerning of palates looking for flavours of hazelnut and the local terroir.
Finally, when it has aged into a blue cheese, it is sought out by fans of full-bodied and assertive flavours.
A wine from the Haut Poitou area is the natural pairing for this cheese: united as they are by the bonds of the local terroir. A dry, fruity white wine (Coteaux du Poitou) will truly showcase the intense flavour of Pouligny-Saint-Pierre. A wine grown in the valleys and on hillsides of the Cher and Loire rivers will complement it perfectly, no matter if you choose a Rieuilly, Quincy, Menetou-Salon, Sancerre, Sauvignon de Touraine or Sauvignon from Berry.
Pélardon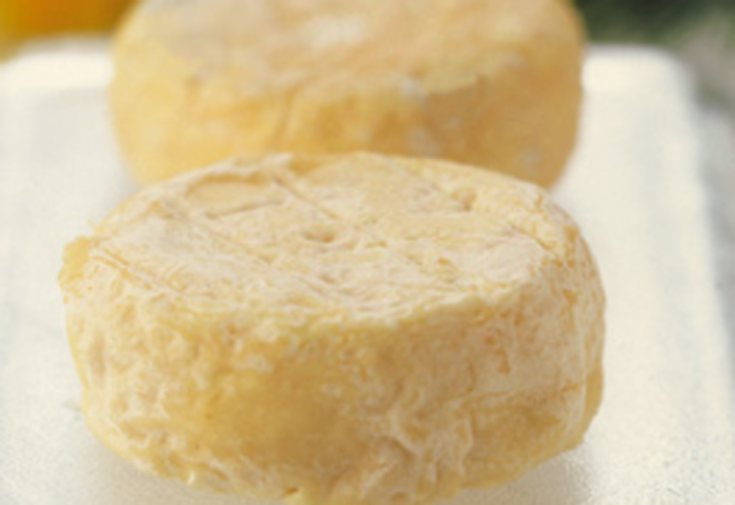 Pélardon's appearance varies a lot depending on how long it has been aged ... Made using raw and whole goat milk, the cheese develops a thin rind that is more or less covered in pale yellow, white or blue molds. Billed as the purest of goat cheeses, the tangy flavour of Pélardon intensifies with the passage of time!
Cheese file
Aged for: At least 11 days
Size: flat cylinder of 6 cm – 7 cm in diameter, and 2 – 3 cm thick,
Texture: ivory white soft paste, homogeneous, smooth when cut but can tends towards brittle when aged for longer.
Taste: delicate and creamy, nutty when young, and a more pronounced goaty flavour when aged.
Weight: 60 g
PDO: 2000
History
Pélardon is produced in several areas: the Cévennes mountain range and Garrigue chaparral in Lozère, the Gard and Hérault counties to Montagne Noire and Hautes-Corbières in Aude county. Roaming this typically Mediterranean zone with a harsh climate and landscape, these goats produce milk that gives Pélardon its atypical flavour.
In the 18th century, 1756 to be exact, Abbé Boissier de Sauvages lingered over the definition of the cheese known as "Peraldou", a small round and flat cheese made in Cévennes. There was no shortage of synonyms (Pélardon, Paraldon, Pélardou, Péraudou), but none of these stood the test of time, and by the late 19th century, everyone was using the term Pélardon.
Tasting
Away from the cheese board, Pélardon is growing in popularity on starter menus: enjoy it in a salad, breaded and oven-baked with a drizzle of olive oil. It is also an ingredient in lots of Occitan recipes from southern France: in a gratin, solo, or with mushrooms; cooked with rabbit meat or even fresh fruit; plain or with honey; with chestnuts; incorporated into stuffings, etc.
Pélardon can be tasted with wines from Languedoc, Chinian, Minervois, Faugères or Coteaux du Languedoc.
Rocamadour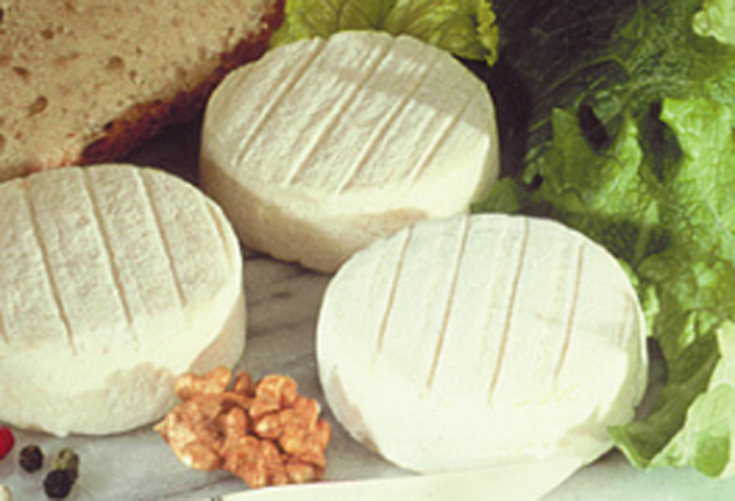 Hailing from the village of Rocamadour in Lot county in France, this small cheese made using raw and whole goat milk has a distinctive white, ivory or dark beige rind complete with a streaked and even slightly velvety appearance!
Cheese file
Aged for: At least 6 days
Size: small disc with rounded edges 6 cm in diameter and 1.6 cm thick
Taste: goaty flavour
Texture: melt-in-the-mouth and fluffy
Weight: 250 g approx.
PDO: 1996
History
Formerly known as "Cabécou de Rocamadour", which means small goat cheese in the Occitan language, it is one of the oldest products from the Causses du Quercy territory. Rocamadour is mentioned in a 15th century monograph due to its use as a currency used by sharecroppers and to pay taxes.
Tasting
Depending on your taste, it can be enjoyed soft, or hard with more intense aromas. Savor it at the end of a meal or in salads. Rocamadour and eggs go together nicely, and this cheese features on the ingredients list for lots of recipes, such as Quercy Tart with Rocamadour.
Any wine from the Cahors region will pair perfectly with Rocamadour.
Sainte-Maure de Touraine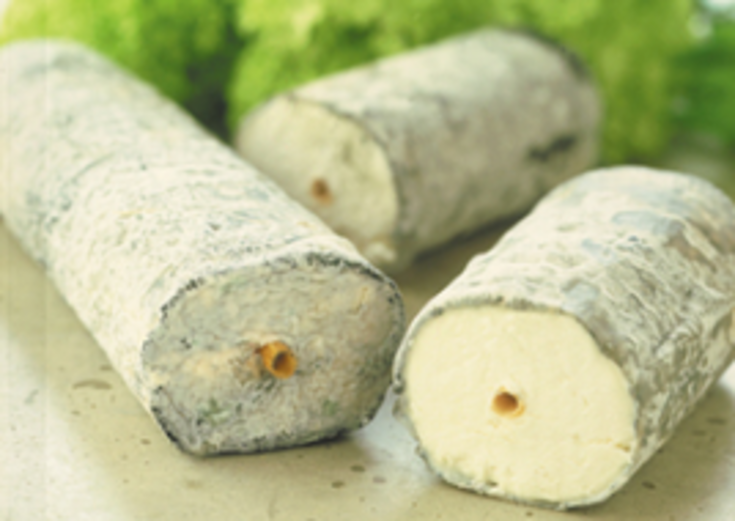 Sainte-Maure de Touraine is easy to spot thanks to the rye straw traditionally inserted through the middle of the cheese to prevent it from crumbling! It is made using whole goat milk and is rolled in (medicinal grade) charcoal ash: a traditional technique that extends the shelf life of the cheese and also helps it to ripen correctly.
Cheese file
Aged for: At least 10 days.
Size: long log, truncated cone, about 17 cm long, and between 48 – 65 mm in diameter.
Taste: very distinctive goaty flavour, mellow and nutty depending on the season.
Texture: ivory-white, soft paste with a homogeneous, fine texture.
Weight: 250 g minimum.
PDO: 1990. "Sainte-Maure" goat cheese is produced in the Touraine region, but only "Sainte-Maure de Touraine" holds the PDO.
History
Sainte-Maure de Touraine was made as far back as the 8th and 9th centuries in Indre-et-Loire and some production areas bordering Loir-et-Cher, Indre and Vienne counties.
This cheese hails from the village of Sainte Maure where every Friday at the turn of the century, farmhouse cheese producers would gather to sell their produce at the market. This tradition is commemorated during the first weekend in June each year when a large cheese fair is held and Sainte-Maure is the star of the show!
Tasting
Arrange thin slices on a plate, or else serve as an appetiser. It can also be baked in the oven. Can be tasted when soft or hard, accompanied by regional wines, a light-bodied and fruity red wine, Bourgueil, Chinon, Gamay, Cabernet d'Anjou or a dry white wine.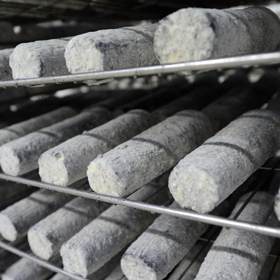 Did you know?
Sainte Maure logs are delicate and fragile, so they risk breaking at any stage in the production process. The rye straw inserted from one end of the log to the other acts as a support, thus preventing the cheese from bending during unmolding and handling operations as it is ripened. This rye straw is carved with the manufacturer's name and guarantees the PDO, as well as providing traceability. Think of it as a genuine signature and the hallmark of ancestral tradition and know-how.
Selles-Sur-Cher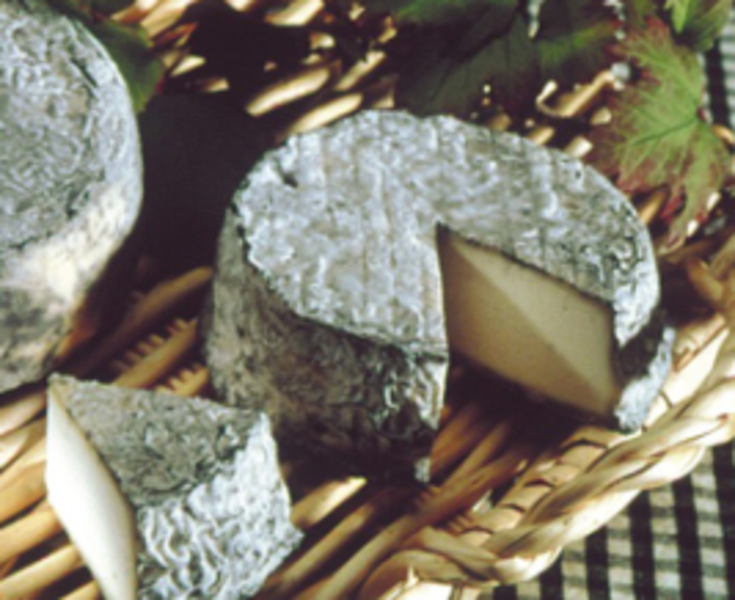 Selles-sur-Cher, made using whole goat milk, features a distinctive soft, white paste and a natural rind dusted in charcoal. The rind should never be scraped: as this coating lends the cheese its special character!
Cheese file
Aged for: At least 10 days
Size: tapered, truncated cone shape 9.4 cm in diameter and 2 - 3 cm thick,
Taste: mild and nutty flavour.
Texture: natural-coloured soft paste.
Weight: 150 g
PDO: 1975
History
This cheese was developed back in the 19th century, named after the town of Selles-sur-Cher, which was the main trading hub. It is made in regions with a mild climate: Sologne, Touraine, Champagne Berrichonne, and parts of Loir-et-Cher, Indre and Cher counties.
Tasting
Above all, Selles-sur-Cher is a cheese to enjoy at the end of your meal, paired with a wine that reflects the local natural environment: dry white wine, white Touraine or a light-bodied and fruity red, Chinon, or Bourgueil. Arrange thin slices on a plate, or else serve as an appetiser.
Visually appealing, it will add a fresh note to any cheese buffet.
Valencay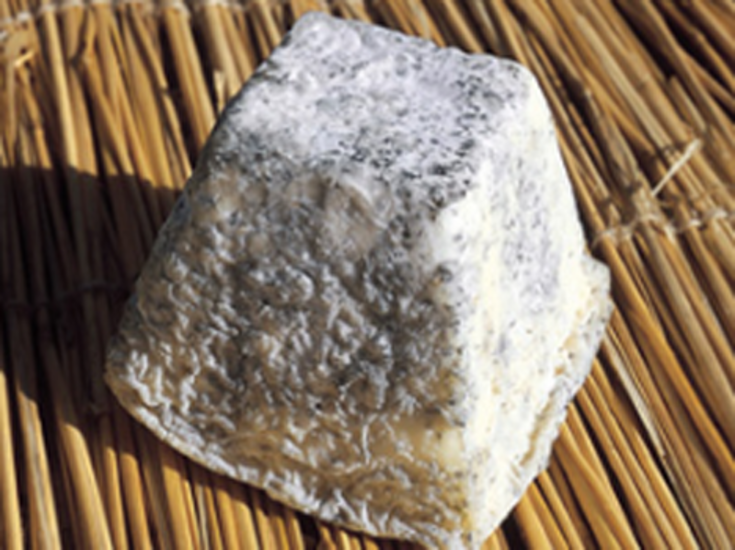 Traditionally produced in France's Berry region, Valençay is a soft cheese made using raw goat milk. Nowadays, it is manufactured across most of Indre county, as well as in some towns in the neighboring counties of Cher, Indre-et-Loire and Loir-et-Cher. It is one of the newest PDO cheeses (13 July 1998), and also comes in a smaller "Petit Valençay" version weighing 110 g.
Cheese file
Aged for: At least 7 days
Size: truncated pyramid 6 - 7 cm tall, with a 7 - 8 cm square base;
Taste: long finish, creamy with aromas of mushrooms or hazelnut and floral hints
Texture: firm, white, homogeneous, fine-textured and smooth paste.
Weight: 220 g approx.
PDO: 1998
History
The story goes that Valençay was originally shaped like a pyramid. However, in the 19th century, its tip was cut off before it was presented at Napoleon's table. In a thoughtful gesture, the Emperor's host at the Château de Valençay was keen to avoid any reminder of the disastrous expedition in Egypt.
Tasting
Valençay is a partner for any enjoyable moments: as an appetiser, nibble, or a snack, or to round off a meal, and it can be paired with any wine from its own natural environment white, rosé or red.