Ripened goat log, 120g
All of Soignon's know-how and the yummy flavour of our aged log in a smaller size, perfect for those who don't want to eat too much at once.
Ingredients
Pasteurised goat milk, salt, starter cultures (including milk), coagulant.
Nutrition facts
For 100g
Energy

1208 kJ / 291 kcal

Total Fat

23g

Saturated Fat

16g

Carbohydrate

1g

of which sugars

1g

Protein

20g

Salt

1.5g

*Reference intale of an averae adult (8400kJ / 2000 kcal)
Practical information

Nutrition facts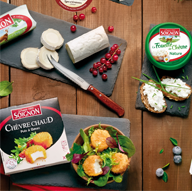 The Ripened goat log is high in protein and a source of calcium. It can be a great choice for those looking to maintain muscle mass and keep their bones strong.
Suitable for the whole family.
This log is made with pasteurized milk, so it is safe for pregnant women who need more calcium in their diets.
Let's go !
1 recipe to try out
Tips and basics
Discover our Tasting and Nutrition tips to eat healthily and deliciously !