How to choose your goat cheese
With over 100 varieties, textures, aromas, shapes and aging periods, it can be hard to know where to start. So, if you want to select a good goat cheese, you obviously need to know a few secrets.
5 categories of goat cheese
In the world of goat cheese, there is something to suit every taste. Different categories of goat cheese exist which can be classified as follows:
Fresh goat cheese
Fresh goat cheese has high water content and a perfectly white, smooth and supple paste. Mild and light in taste, it is the perfect way to introduce kids to the joys of goat cheese. Also check out the Unripened goat log plain, the Unripened goat log ash, or the Whipped goat cheese.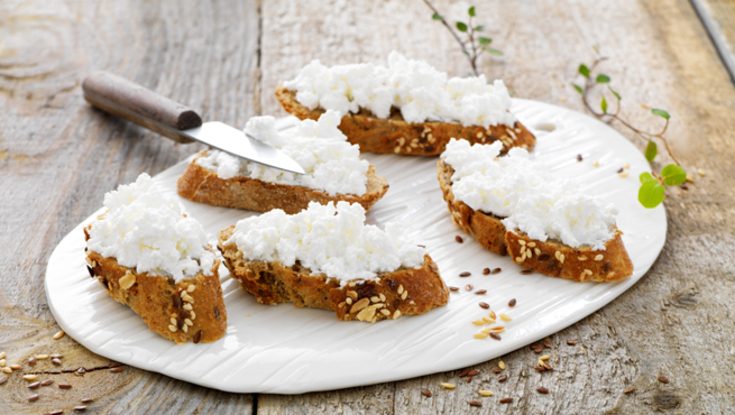 Goat cheese logs
A goat cheese log is undoubtedly the most popular goat cheese commonly found on cheese boards. For example, the Ripened goat log has a fluffy white rind, a fine and melting texture, and the full-flavored, typical taste of goat cheese.
Check out Soignon's goat cheese logs!

Soft goat cheese with bloomy rind
Soft goat cheeses with a bloomy rind feature a distinctive supple texture and melt-in-the-mouth core. With a higher water content, these cheeses are more supple in the center and are enjoyed when fully ripened. This means that as the use-by date approaches, the goat cheese will be stronger in flavor.
Check out Soignon's soft cheeses with bloomy rind!

Local terroir goat cheese
Local terroir goat cheeses come from the cheese-making tradition of Poitou and the Loire Valley in France. Ladle-molded in the case of Sainte-Maure, or "drum" shaped for Chabichou du Poitou, these locally produced goat cheeses really appeal to lovers of traditional goat cheeses with their sophisticated goat flavor.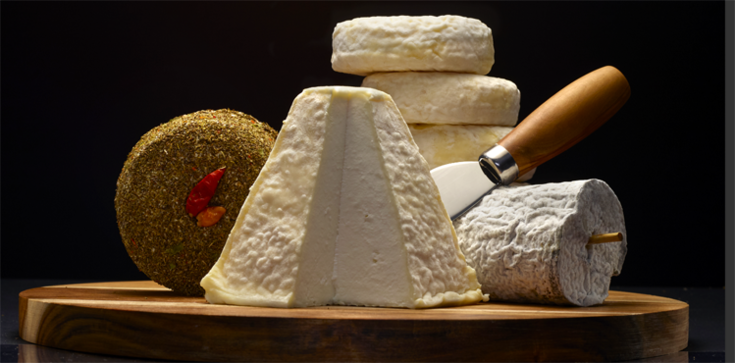 Pressed cheeses
As the name suggests, pressed goat cheeses are obtained by pressing and molding the curd, followed by ripening. The more draining that occurs, the drier the cheese. Love uncooked pressed goat cheese? Then check out Soignon's Maasdam slices.
Discover Soignon's semi hard cheeses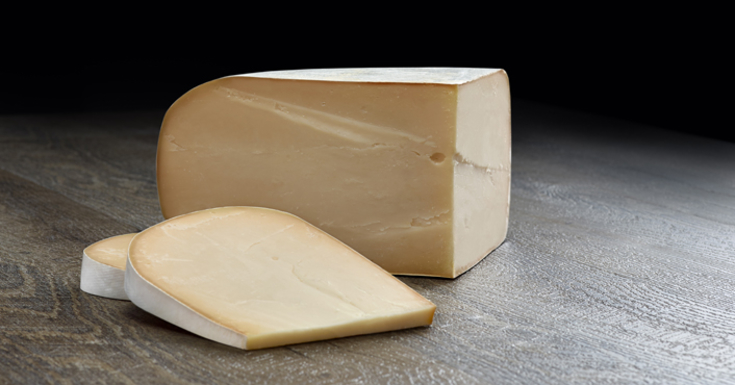 Raw or pasteurized milk for your goat cheese?
Cheeses are generally divided into two groups, depending on whether they are made using raw milk or pasteurized milk.
This means that for goat cheeses made from raw milk, the milk has not been heat treated and so it is possible to preserve the bacterial flora.
You should know that raw milk cheeses are not recommended for pregnant women or for children aged under 5 years old. For more information, read our article on goat milk and pregnant women.
In the case of so-called "pasteurized" milk cheeses, the goat milk has been heated to between 72 °C and 85 °C for 15 to 20 seconds in order to destroy the pathogenic germs whilst preserving its taste qualities.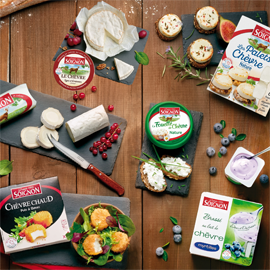 Did you know?
The Soignon range does not include any raw milk cheeses.
Aging goat cheese
Beyond these five categories, the majority of goat cheese enthusiasts rely on the ripening time when making their choice. They know that the younger and fresher the goat cheese is, the milder and fresher it will taste. Conversely, the drier or more ripened the goat cheese is, the stronger it will taste.
We can distinguish between:
Semi-soft goat cheeses that are aged for 8 to 15 days. These have a white, soft texture and pronounced goaty flavor.
Hard and firm goat cheeses are aged for 3 to 4 weeks. They have a more full-bodied flavor and their texture is drier.
As you can see, goat cheeses in particular can be tasted at all stages of aging, so they offer a varied range of textures and flavors.
Goat cheese comes in all shapes!
Just as there are goat cheeses to suit all tastes, part of the joy of goat cheese lies in the diversity of its forms. From logs, pucks, discs, pyramids, blocks or boxed like a Camembert … goat cheese in all its manifestations brings diversity onto your cheese boards. Not forgetting warm goat cheese, goat cheese rounds with bacon, or the mini-logs for appetizers and salads to enhance your recipes and meals.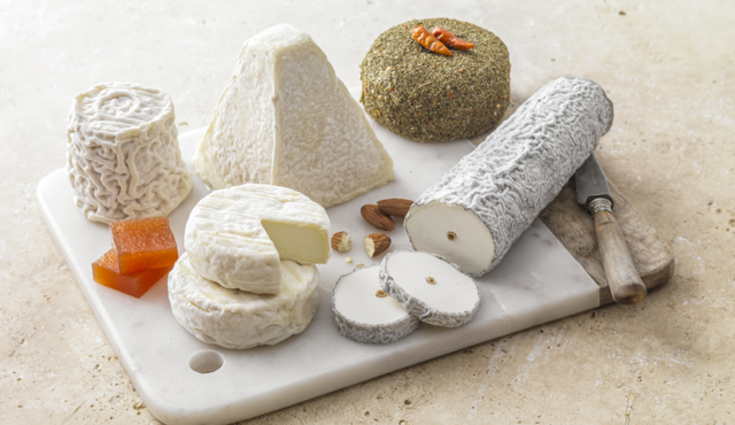 Find out more by reading our article: "Goat cheese Tour de France" which you can find in the goat cheese tour of France section to know everything there is to know about PDO goat cheeses!