Perfect sweet pairings to enhance goat cheese
Not just a mere fad, pairing sweet and savory in your cooking can bring out some unexpected flavours! Cheeses and yogurts made from goat milk are especially suited to these amazing and delicious combinations. Discover a few perfect pairings that elevate goat cheese and will surprise your guests on your next cheese board, appetizer or cheese dinner with friends.
Nuts
Nuts are a classic partner for cheese. Both as part of the decoration of your cheese board and for the visual appeal they offer your guests, not forgetting that added crunch. So, consider arranging a few walnuts, hazelnuts, figs or dates on your cheese platter.
For a more diverse offering, you can't go wrong with a mixture of chopped nuts (raisins, walnuts, pistachios, etc.)
We know that multigrain bread goes really well with goat cheese, but did you know that can also opt for a nutty bread? Go ahead and try a nice walnut bread or a raisin bread to ace your sweet and savory pairing!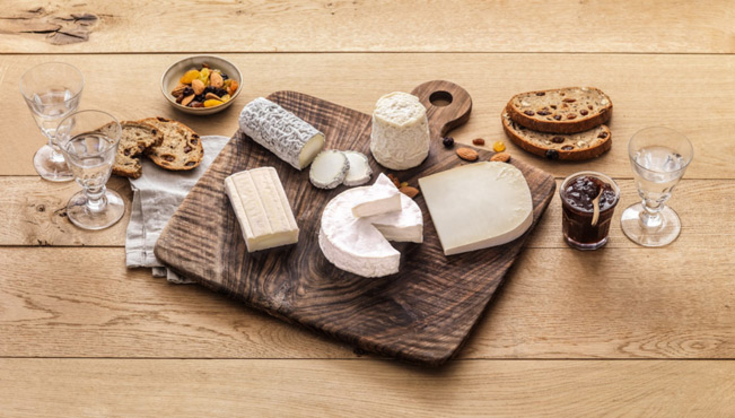 Fresh fruit
As well as adding a fresh burst of colour to your cheese platter, fresh fruits are a mellow and sweet option so your guests can round off their meal.
Naturally, you should choose seasonal fruits to pair with the goat cheese. In summer, you might combine fresh goat cheese with slices of peach, apricot or nectarine, or even red berries (cherries or redcurrants). Once autumn arrives, choose apples, pears, figs or grapes as the perfect accompaniment to more aged cheeses.
Away from the cheese board, a few slices of fresh fruit can also accompany a yogurt or a fromage blanc made with goat milk for a healthy breakfast or snack.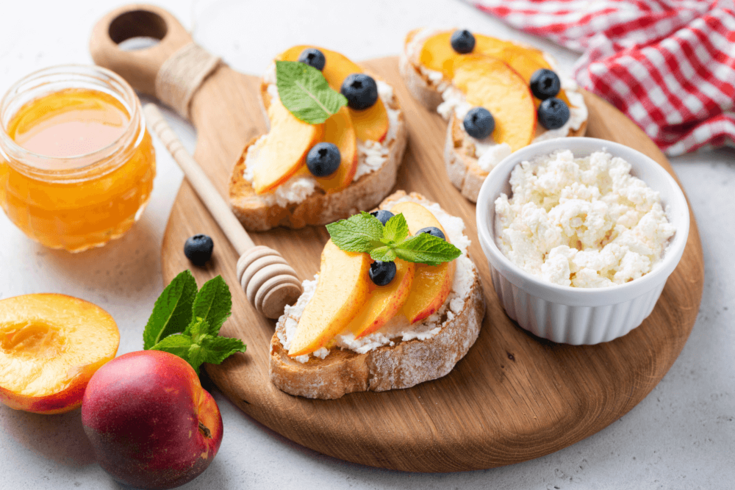 Stewed fruit
The pairing of cheese and conserves is undoubtedly one of the best known sweet and savory combinations. This is no surprise since sugar and fruit help bring out some of the flavours in the cheese. A milder fresh goat cheese will go perfectly with a sweet conserve, such as fig or raspberry. A cheese with a more pronounced flavour such as Ripened goat log will taste great alongside black cherry or blueberry conserves.
In addition to pairing with conserves, goat cheese and stewed fruit are also delicious when used together in cooking or as an appetiser. Whether you stew, caramelize or even poach them, apples and pears are frequently paired with goat cheese to create delicious sweet and savory recipes. Likewise, fig jam or onion confit are the perfect way to elevate warm goat cheese on toast.
Lastly, cooked fruits whether in syrup or coulis form are ideal to bring a sweet and light touch to your yogurts, fromage blancs, Pannacotta and other goat's milk dessert recipes.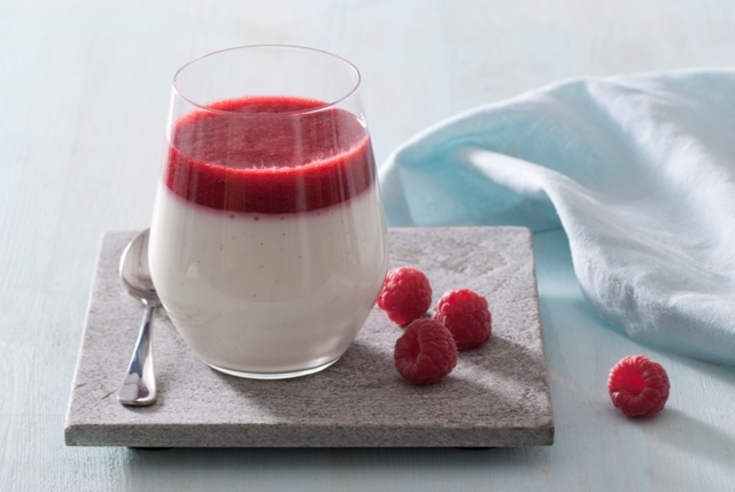 Honey
The combination of honey and goat cheese is a true classic, and many gourmets sweeten their yogurt with a spoonful of honey rather than powdered sugar. What's more, nowadays, honey is a key ingredient in recipes that combine sweet and savory flavours. Goat cheese and honey go together perfectly, for example, goat cheese and honey on toast – a superstar of appetisers and salads.
To try something different and fully appreciate the taste of your favorite goat cheeses, try matching a fresh goat cheese with a mild honey like acacia honey; then pair a more intense cheese with a richly aromatic honey, like chestnut or lavender honeys.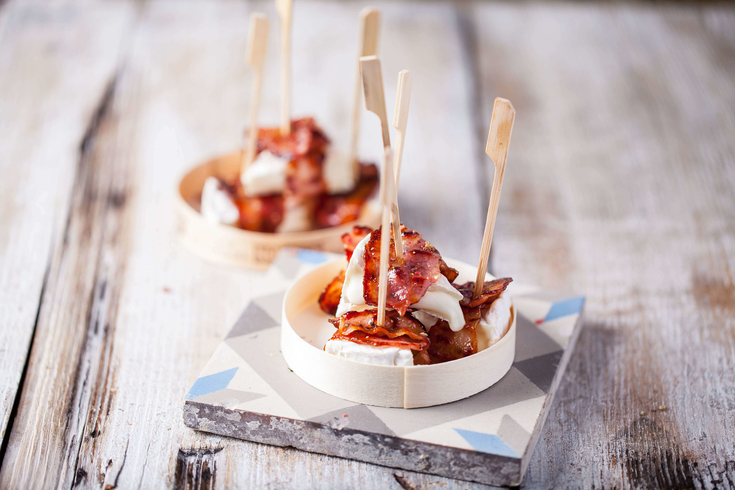 Gingerbread
Just like honey, gingerbread is increasingly making its way onto our table as an accompaniment to some exceptional products. Who hasn't already enjoyed tasting delicious foie gras on a slice of gingerbread?
Fresh, toasted or in croutons, gingerbread reveals its subtle notes of honey, cinnamon and nutmeg whilst elevating a goat cheese log or a breaded goat cheese toast. Use it in any of your recipes for appetisers, salads, mains and desserts.